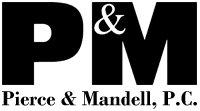 As winter quickly approaches, so does the onset of the always unpredictable Boston winter weather. As sidewalks and parking lots start to become wet, icy and slippery, it's important to know your legal rights as a pedestrian and your legal duties as a landowner.

Historically, Massachusetts courts distinguished between natural and unnatural accumulations of snow and ice when considering whether property owners are liable for personal injuries occurring from winter weather slip and fall accidents. Prior to the Massachusetts Supreme Judicial Court's ruling in Papadopoulos v. Target Corp., landowners had no duty to remove natural accumulations of snow and ice on their property. Papadopoulos v. Target Corp., 457 Mass. 368, 370 (2010); Sullivan v. Town of Brookline, 416 Mass. 825, 827 (1994). This archaic legal rule, known as the Massachusetts rule, resulted in bizarre rulings that often hinged on whether a particular patch of ice or pile of snow was natural or unnatural, which created "confusion and conflict." Papadopoulos, 457 Mass. at 377-78.

The distinction between natural and unnatural accumulation no longer exists in Massachusetts. A property owner now has a duty to "act as a reasonable person under all of the circumstances including the likelihood of injury to others, the probable seriousness of such injuries, and the burden of reducing or avoiding the risk." Id. at 383. It's now up to a jury to consider whether a property owner's snow and ice removal efforts are reasonable in light of the expense they impose on the landowner and the probability and seriousness of the foreseeable harm to others. Id. at 384.

With the holiday season in full swing, mall parking lots are bound to be full of pedestrians and cars. They may also be full of ice and snow. It's important to remember that business owners now have an affirmative duty to make sure that their property is well maintained and free from dangerous snow and ice conditions, whether natural or unnatural. Landowners can no longer hide behind the defense that they have no duty to alter or remove snow or ice – they most certainly do. If you are the victim of a landowner's failure to properly salt, plow or shovel their property – you have legal rights and it's vital to contact Pierce and Mandell, P.C. if you've been injured.