17 March 2020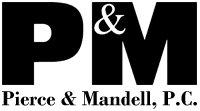 Pierce & Mandell, PC will continue to operate fully during this time of disruption and uncertainty caused by COVID-19. As always, our top priorities are the health and safety of our staff, community, and clients, and our continued accessibility to our clients.
All Pierce & Mandell attorneys have the technology and ability to operate remotely and, consistent with the recent guidance from Massachusetts Governor Charlie Baker, will be doing so until further notice.
Our office will remain staffed by essential personnel to ensure our systems continue to run smoothly. If you have questions about COVID-19 or any other matter, please do not hesitate to contact your P&M attorney.