17 January 2018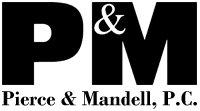 For the ninth consecutive year, Pierce & Mandell, P.C. is proud to be part of the Yankee Dental Congress, January 25th through January 27th at the Boston Convention & Exhibition Center.
Yankee Dental Congress is an educational program and convention that draws thousands of dental professionals each year. Pierce & Mandell attorneys who focus on representing dental professionals and practices with dental practice transitions and sales, associate buy-ins, leases, employment and service agreements, and staff employment issues will be at our booth (814) on the Exhibit Hall.
Pierce & Mandell Health and Dental Law Practice Area leader, Bill Mandell will be featured at two educational programs at this year's Yankee Dental Congress. On Thursday, January 25, from 2 to 4 pm, he will be presenting "Legal Issues in Practice Transitions".
On Friday, January 26, form 10 am to 12 noon, Bill will be a panelist on "Taking the Fear Out of Buying or Selling a Practice: Ask the Experts".
If you are planning on attending Yankee Dental come by our booth and say hello.
Click here for more information on the 2018 Yankee Dental Congress. For more information on our services for dental practices contact Pierce & Mandell, P.C. or email Bill Mandell at bill@piercemandell.com.